Want to know about upcoming Checkmate Farm classes this year? Scroll down the page for all the latest information and updates on punch needle classes.
Individual and group classes at Greenwood, Cartersville, Virginia available upon request. Please check Enrollment to schedule!
Vendor: Maryland Sheep & Wool Festival
Date: May 6 & 7, 2023
Location: Howard County Fairgrounds – Main Building
West Friendship, Maryland
Purchase entry tickets https://mswf2023.eventbrite.com/
Class Title: Beginning Oxford Punch Needle at Goshen, New York
Description: Come try rug punch at
All for One and One for All Farm (AOOA)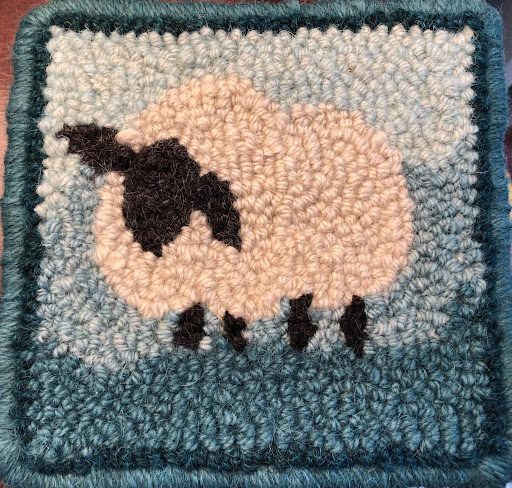 Instructor: Kathy Donovan, Oxford Punch Needle Certified Instructor
Date & Time: Saturday, July 1, 2023, 10:30 AM to 1:00 PM
Location: 221 Craigville Road, Goshen, NY 10924
Enroll: www.alloneoneall.com
Class Fee: $75.00 Includes kit, needles and frames will be loaned.
Questions: Contact Kathy Donovan at kathy@checkmatefarm.com
Rug Exhibit: The Golden Age of illustrated Fairy Tales Hooked Rugs
Description: McGown Rug Hooking Instructors made 100 fairy tale illustrated rugs! You will remember images from books long ago!
Date: September 9 to October 28, 2023
Time: Open Tuesday thru Sunday Noon to 3 pm
Location: Barns of Rose Hill Theater, Berryville, Virginia
Class Title: The Golden Age of Fairy Tales – Oxford Punch Needle Class
Description: In the spirit of "Hooked on Fairy Tales", lets create this Wonderland Rug (size 24 X 22) combining various techniques and materials to make your fairy tale rug come to life. As your guide – I will share fiber art techniques, including using variety of punch needle sizes, novelty yarns, wool fabric, needle felting, shading, punch needle embroidery and proddy. Finishing techniques will be discussed. 
Allice in Wonderland Pattern Design by Breezy Ridge Rugs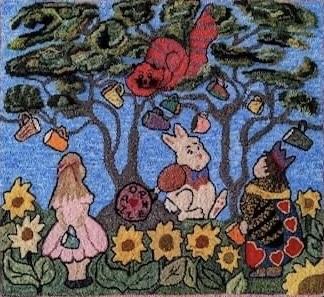 Class Date: September 29, 30, October 1
Time: Friday and Saturday 9 am to 4 pm, Sunday 9 to Noon.
Instructor: Kathy Donovan, Oxford Punch Certified Instructor
Class Fee: $300.00 Class fee includes lunch, pattern, instructor, and variety of materials.
Location: The Barns of Rose Hill, 95 Chalmers CT, Berryville, VA
Enroll: www.barnsofrosehill.org  or Call Nathan (540) 955-2004
Questions: Kathy (540) 454-4898 or Kathy@checkmatefarm.com

Class: Modernizing primitive style with colorful wool cuts!
Date: October 5, 6 (9 am to 4:30 pm), Sunday October 7 (9 to Noon)
Location: The Barns of Rose Hill, 95 Chalmers CT, Berryville, VA 22611
Teacher:  Vivily Powers, McGown Certified Instructor 
Owner of Colorama Wool
 Pattern: Bowl of Flowers 18x28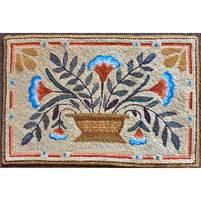 Pattern is printed on primitive linen to accommodate up to an 8 cut wool.
A choice of custom dyed wool and textures will be available to students to complete all motifs and background for the project. Class will include color planning the project and wool selection, hooking, and finishing techniques.
 Class Fee: $335.00 Instruction, project wool material, pattern cost and 2 lunches.
 Enrollment: The Barns of Rose Hill Website under Classes/Workshop
 Supplies to bring to class:
Hook to accommodate wide cut wool strips.
Cutter and blade of choice
Frame
Scissors
 
Bio:
Vivily Powers is a McGown certified teacher and owner of Colorama Wool. She is a member of the McGown, ATHA and Nova Scotia guilds and is past president of the McGown Guild.
She has been a judge for Rug Hooking Magazine Celebrations book. Vivily attends and teaches at workshops in the United States and Canada. She is noted for her beautiful custom dyed wool and color planning expertise. She encourages the beginner as well as the seasoned hooker. 
Questions? Contact Kathy Donovan, kathy@checkmatefarm.com, (540) 454-4898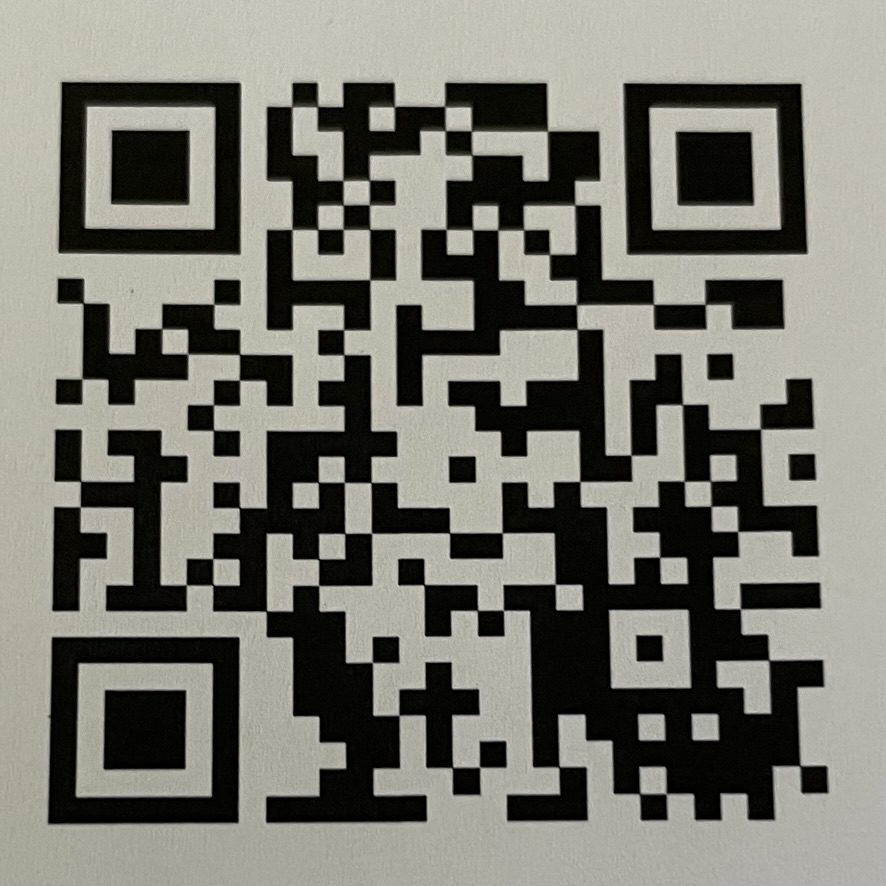 Class: Beginner Oxford Punch Needle Rug Hooking
Santa Fe, New Mexico
 Instructor: Kathy Donovan owner of Checkmate Farm
 Certified Oxford Company Punch Needle Rug Hooking Instructor Cartersville, Virginia
Level: Beginner         
Class Fee: $75.00
Dates: September 14 & 15, 2023
Location: Hacer Santa Fe, 311 Montezuma Ave., Santa Fe, NM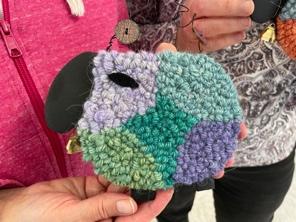 Enroll: Call Laura Martin Baseman, Owner, (505) 467-8174
Join us for this basic introduction into Oxford Punch needle rug hooking.  Simple for beginners and fun to do. We will be creating this little sheep using hand dyed Checkmate Karakul wool rug yarn and the size #10 Regular Oxford punch needle.  Kit will include pattern on monk cloth and Checkmate hand-dyed rug yarn. Frames and Oxford Punch needles will be available for class use and purchase. Finishing options will be demonstrated and started.
 BIO: Kathy Donovan, founder of Checkmate Farm raises heritage Karakul sheep. Kathy's passion is teaching Oxford punch needle rug hooking. She creates and hand dyes rug yarn from her "rug" sheep known for Persian carpets for centuries. She teaches on her farm and fiber festivals to share this easy, fast, and fun Oxford punch rug hooking method!